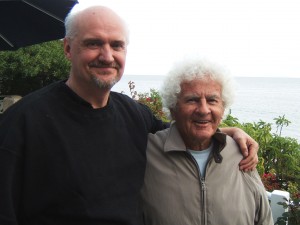 by Bruce Wilson
Three days ago, the world lost one of the greatest psychologists of the past century, Dr. Arthur Janov, originator of primal therapy and Director of the Janov Primal Center in Santa Monica, California.
I first "met" Janov on the front cover of his groundbreaking book, The Primal Scream (1970). I was 21 and deeply troubled and there he was with his dark eyes, handsome face, and curly hair, looking totally relaxed, promising hope. I had heard he had treated John Lennon and Yoko, and Lennon's primal album was one of the most gut wrenching pieces of music that I had ever heard. There was no doubt when I read Janov's book that primal therapy was exactly the treatment I needed to get better. In 1974, I entered into therapy at the Denver Primal Center and have never regretted it. Today, I am having another round of treatment at Janov's centre in Santa Monica, all to good effect. I will be blogging more on this in coming weeks.
In recent years, I became closer to Art (the name he preferred among his friends), offering to help him advance his therapy in the scientific community. He took up the offer wholeheartedly but he was pretty skeptical of anything coming of it. After all, he had gone through decades of ridicule and abuse in both the psychological and psychiatric communities. My best memory during this period was introducing Art to Jaak Panksepp, another giant in the field of affective neuroscience. Panksepp immediately recognized the logic of primal therapy – that early life trauma can have lifelong consequences – as he had observed himself in his animal studies. Although the two never went on to collaborate (sadly), Panksepp was profoundly affected by primal and went on to talk about it in conferences and in his books. After being ignored by almost every scientist Art reached out to, this was a real bonus for him. Art and Panksepp stayed in touch over the years, right up to the Panksepp's untimely death earlier this year (April 18).
Several years ago, Art attended a conference in LA on the cause of trauma and its treatment. He was keen to collaborate with a neuroimaging scientist which unfortunately didn't come to pass. But I will never forget him walking out during a presentation by a "sensorimotor therapist" who professed to have discovered a means whereby traumatized patients could relive their traumas without becoming "retraumatized." It consisted of little more than minor body movements coupled with a few tears. Art would have nothing to do with it, as he wouldn't with dozens other treatments offered up by professional psychotherapists. He spent a good part of his writing career criticizing these therapies (see "Grand Delusions" on his website.) His term for many of these treatments was "booga booga", a polite name for bullshit. Art was adamant (and I believe rightly so) that these treatments were non-curative and a waste of money and time. From the beginning, he held to the tenet that in order to resolve a particular trauma or psychic insult, to get rid of troublesome symptoms such as depression, anxiety, compulsions, etc. it was necessary to feel the pain beneath and not cover it over with a new set of defense mechanisms. No amount of talking, massage, meditation, fake screaming, eye movements (which Art called 'voodoo'), psychedelics, shock treatments, drugs, etc. could effect a cure. The dialectic of primal therapy is that one must do the opposite of what your defenses want you to do, i.e. go into the pain rather than away from it. As he wrote in Grand Delusions,
The only hope for cohesion, and lasting help for patients, is to address the generating sources of neurosis or mental illness. What and where are these sources? I believe that the conflict between the imprinted Pain of early trauma and its repression is the central contradiction that generates neurotic reactions both internally (physiologically) and externally in the form of behavior. Repression, or the loss of access to feelings and sensations, is an evolved function that allows us to survive unmitigated pain early in life. The pain, however, stays in the body, unavoidably – as unavoidable as the experiences that originally caused the pain. And the pain will perpetually fuel a dislocation of mental and physical functioning to keep itself unfelt, for as long as it remains unfelt.
Throughout his career, Art held fast to these principles, reiterated time and again in fifteen books, plus a large number of blog posts. Today, primal therapy is exact and measured, a far cry from the primal of early days. Patients are followed closely from the beginning with physiological measurements (heart rate, blood pressure, body temperature), and many of the patients at the center (including me) are taught to "regroove" their feeling style so that later, higher level feelings are fully felt and integrated before lower, earlier "first line" feelings are allowed to surge forth. Art was always adamant that primal therapy should proceed in an orderly and coherent manner, with later feelings going first and earlier feelings following. I now see the wisdom in this, as it helps one to connect and integrate feelings and prevents first line overload.
The last time I saw Art was at his second home in Palm Springs, Calif. We were gathered with several of his therapists and two scientists who were interested in his work. That was three years ago. Perhaps prophetically, Art was telling all of us that it was up to us to carry on the therapy. He never referred to "after I'm gone." At one point, he looked me in the eye and said, "Kid, you have to do this therapy. It's really important. Really important. This is your life, the only life you'll have."
And so I have done so. Dear Art, rest in peace my friend. You have done more for me than you can imagine, and continue to do so through your books and blog. Thank you.
Avec le temps, va, tout s'en va
On oublie le visage et l'on oublie la voix
Le coeur, quand ça bat plus, c'est pas la peine d'aller
Chercher plus loin, faut laisser faire et c'est très bien
– Léo Férré


The The Passing of a Genius by The Primal Mind, unless otherwise expressly stated, is licensed under a Creative Commons Attribution-NonCommercial-NoDerivs 2.5 Canada License.